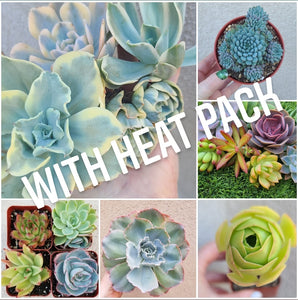 Monthly Succulent Subscription WITH HEAT PACK
Regular price $38.00 Sale
ONLY CHOOSE THIS OPTION IF YOU NEED A HEAT PACK AT ANY TIME OF THE YEAR. 
Subscription boxes can really suck.... but we think they can be great!
I've seen countless social media posts of unhappy succulent subscription box customers.  They received a beautiful box and glossy  literature with 2 puny and rotting barely rooted cuttings. That gives us frowny faces.
Our subscription box is different (and we think better)!
Your box will be packaged in the same box as all our orders and any special care instructions will be included in a post on my Instagram (www.instagram.com/thisdoesntsucculent).
Why aren't we including a fancy box and glossy care cards?  Because we value you as a customer and want to put all our focus and money into the PLANTS since that is what you're actually buying.
No gimmicks or worthless freebies just gorgeous plants!  We don't have the cheapest succulent box you'll find but we do have the best!
Why is this box more expensive than other subscription boxes?
Because you're getting 4 rare plants per year and on the regular months you'll get more/bigger/fully rooted plants or a box of cuttings not just a couple of small plants. The monthly cost is averaged out to cover all your costs but have one flat fee per month.
So what DO you get?
1) one succulent box EVERY month year-round. 
2) once per quarter (4 times per year) that box will contain "rare" or hard-to-find succulent(s) most of which will be imports. Occasionally, I find something amazing nearby. These plants will vary box to box and could be an echeveria, graptopetalum, cactus or something else. There won't be any repeats in a year (so a 2022 rare box might include something that was in a 2021 rare box).  The "rare" boxes focus on a variegated, crested, and otherwise awesome succulent.  Import months will be 1-2 plants depending upon size and variety.                                     
A monthly subscription includes ALL quarterly boxes.          
3) the other 8 boxes per year will include plants considered more common but just as beautiful!  You'll receive a variety of plants that will vary from sets of 6 x 2" plants to a pair of 4" plants to one 6" plant to a set of cuttings.  Each box will be different and there won't be any repeats within a year.
4) You will be charged $38 (plus tax for California residents) per month every month until you cancel your subscription.
5) The cost of each box is averaged out over the length of your subscription so that there is an equal monthly payment. Should you decide to cancel at any time during your subscription there will be a $10 cancelation fee on regular boxes and $15 on heat pack subscription boxes.
6) Your subscription box is all inclusive and there is no additional charge for shipping. ALL boxes will ship priority mail. This is another reason our price is higher than other boxes you'll find. They almost always ship first class. We don't want to risk your plant's health by having extra time in the box while in route to you.
**IF YOU LIVE IN AN AREA THAT GETS COLD WEATHER IN THE WINTER MAKE SURE YOU CHOOSE "WITH HEAT PACK" WHEN SELECTING YOUR SUBSCRIPTION.  THE COST DIFFERENCE IS ONLY FOR THE HEAT PACK COST AND EXTRA SHIPPING.**
Due to the lead time for procuring imported succulents the rare boxes are on set months.  JANUARY, APRIL, JULY, and OCTOBER only (barring any delays with imports arriving).
Your succulents will always ship the first week of the month.
Subscriptions are prepaid and all new subscriptions begin shipping the month following your purchase.
If your new subscription falls on a "rare" month (and you purchased after the 10th of the month) then your first box will not ship until the first month after the rare box meaning it can be a delay of up to 6 weeks.  Your subscription will then end on a rare month to ensure you still receive 4 rare boxes within your year.
 Picture is representative of plants. Plants you receive may or may not be the same variety of those pictured